More than 1 in 3 people own a coffee machine in the UK and sales of coffee pods are continuing to rise. But the question remains – are all coffee pods recyclable and how do you know which pods have less of an impact on our environment?
I promise to offer you a non-biased view on coffee pod recycling, from my personal perspective. Hopefully, it will alleviate any concerns you have about your daily coffee habit and help you choose which coffee capsules to buy in the future.
The different type of coffee pods.
Most coffee pods are made from either plastic or aluminium – neither of which should end up in landfill because they will take hundreds of years to break down.
There are a few brands, such as us (Coffee & Kin), who have created compostable coffee pods. Our capsules are made from a bioplastic, which is essentially a blend of plant fibres. They are 100% free of conventional plastic and will break down in a matter of weeks.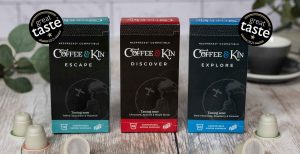 Can you recycle plastic and aluminium coffee capsules?
Currently, you cannot put your used plastic or aluminium coffee pods in your household recycling bin. The recycling facilities in the U.K. are unable to process coffee pods as they're often made from a mix of materials.
However, there are new schemes, such as Podback, which offer pod recycling. If there's a brand of capsule that you love drinking, my advice would be to contact the company in question and ask about their recycling services – don't just put them in your bin as they might end up in landfill or our oceans….. and we don't want that!
Just be aware, that recycling plastic and aluminium coffee pods can be quite labour intensive. You must take the coffee out of the pod and if the capsule has a different material on the lid, you will have to remove that too.
You can find more about Podback here – https://www.podback.org/
What about compostable coffee pods?
In my opinion, compostable coffee pods are a truly sustainable alternative. Our Coffee & Kin pods are created with renewable raw materials, using energy generated from the sun, wind, hydropower and biogas. Our capsules are also manufactured by a climate-neutral organisation, Terracaps.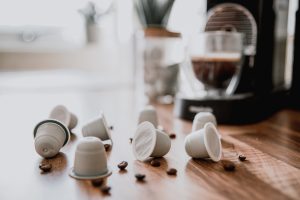 After use, our coffee capsules can be composted, including the coffee inside the pod. Please note that our pods are not certified as home compostable. We believe this is the honest approach. No two home compost heaps are the same, therefore, it's just not ethical to say that our coffee pods will break down in a home compost heap. Effective home composting relies on a range of different factors; including the weather, internal temperature and the type of materials placed onto the heap.
We want to ensure that our coffee pods will break down fully and therefore recommend putting them in an industrial composter. Here, they are heated to approximately 55 degrees and break down in a matter of weeks.
Our 'composted' coffee pods are then used in fertiliser and biogas. The fertiliser is used in farming and the energy is put back into the National Grid.We believe this is a very ethical way to use coffee pods and they taste seriously good too!
How do I find an industrial composting facility?
Everywhere is different. It's best to check with your local authority to find out if they accept compostable packaging in their garden and/or food waste collections. If not, you can send your used pods back to Coffee & Kin and we will pay for them to be composted correctly through our partnership with First Mile.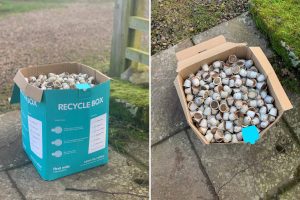 This is a cost we are happy to cover to ensure that our pods break down fully. As a thank you, we will offer you free delivery on your next order. It's a good solution for both parties and ensures that we are all doing our absolute best to help our planet.
Why are coffee pods so popular?
People absolutely love the convenience of coffee pods. They also love the taste and flavour. If you find the right brand, you can become your very own kitchen barista and make café-style coffee in your own home.
They may not be the most eco-friendly product out there. We understand that. But, you can ensure that the pods you buy are as environmentally-friendly as possible.
Also, one good thing to note is that unlike other coffee brewing methods, when you make a coffee using a coffee pod, you use a minimal amount of energy. The coffee pod machine flash heats only the amount of water that it needs, which is very different to when you boil a kettle for a cafetiere.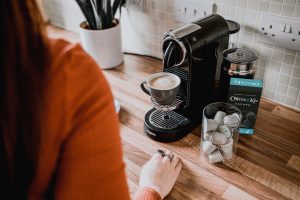 To sum up, here's a quick list of questions and answers about coffee pod recycling:
Can your coffee pods be collected as part of your household recycling?
No.
Can you put coffee pods in your recycling bin?
No.
Can you recycle coffee pods?
Yes, but you need to ensure it's done in the right way and it's not as easy as you might think. We recommend you ask the company you buy your coffee pods from about their service.
Which is the most eco-friendly type of coffee pod?
At Coffee & Kin, we believe that compostable coffee pods are the way forward. They use less energy when they are manufactured, they are made using renewable materials and when composted correctly, they will break down in a few weeks.
Finally………..
If you have any questions about our coffee pods, please don't hesitate to get in touch via email – ruth@coffeeandkin.co.uk
We have won two Great Taste Awards for our coffee pods and we are so proud of how they taste. We used a world class expert to come up with our blends and we only use speciality grade coffee, because it tastes seriously good and it's the best quality you can buy.
If you'd like to buy our coffee, just head over to our shop now.